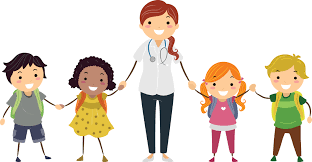 1. Oral temperature of 100.0 or higher. Keep your child home until they have been free of fever for 24 hours without fever reducing medications.
2. Sore, red and/or swollen throat.
3. Any unexplained rash.
4. Eyes that are red, swollen, painful or matted together.
5. Vomiting and diarrhea. Keep your child home until they have been virus free for 24 hours.
6. Hepatitis A symptoms (Abrupt onset of fever, lack of appetite, nausea, vomiting, jaundice, yellow tinged skin and /or yellowing of the eyes.
7. Any questionable contagious symptoms or if your child is especially droopy, decreased energy or just not his/her usual, regular self.
9/9/2022-Vision and Acanthosis Nigricans screenings will be conducted 9/19-9/23 for all 1st, 3rd, 5th, and 7th graders. All new admissions will be screened regardless of grade. Also, pre-k and kinder will be screen September 28th. Please send your student with their prescribed glasses or contacts this week.
8/22/2022-Please see the required vaccinations under "quick links". Students who do not receive required immunizations, must be excluded until proof of vaccination or appropriate exemptions are received.
8/22/2022- Medication Authorization Forms are required, to be signed by parent and provider, before any medication can be administered to a student
8/19/22- The updated Covid-19 policy is available for review under quick links. Please contact the nurse for any questions or concerns.