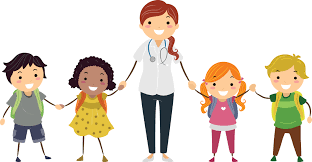 1. Oral temperature of 100.0 or higher. Keep your child home until they have been free of fever for 24 hours without fever reducing medications.
2. Sore, red and/or swollen throat. ANTIBIOTICS: Keep your child home until 24 hours after the FIRST dose of antibiotic for anything like ear infection or strep throat.
3. Any unexplained rash.
4. Eyes that are red, swollen, painful or matted together.
5. Vomiting and diarrhea. Keep your child home until they have been virus free for 24 hours.
6. Hepatitis A symptoms (Abrupt onset of fever, lack of appetite, nausea, vomiting, jaundice, yellow tinged skin and /or yellowing of the eyes.
7. Any questionable contagious symptoms or if your child is especially droopy, decreased energy or just not his/her usual, regular self.
Covid Guidelines
Please screen your child for COVID-19 symptoms before sending them to school.
Parents must ensure they do not send a child to school if the child has COVID-19 symptoms or is test-confirmed with COVID-19, until the conditions for re-entry are met

-For children with symptoms, at least 5 days have passed since symptom onset, and *fever free, and other symptoms have improved

-Children who test positive for COVID-19 but do not have any symptoms must stay home until at least 5 days after the day they were tested.
Medications In School
If your child requires medication during school hours, please print the medication authorization form, and/or the appropriate action plan form for your child's medical condition (diabetes, seizures, food allergies, asthma). These forms can be located under the "Health forms" button above. Once you and the provider have completely filled out the required sections, you may return it to the front office or school nurse.
Medication Administration Form
*ALL MEDICATION ADMINISTRATION MUST TAKE PLACE, AT THE NURSES OFFICE, UNLESS PROPER DOCUMENTATION HAS BEEN PROVIDED THAT YOUR CHILD CAN ADMNISTER HIS/HER OWN EMERGENCY MEDICATION BY THE PROVIDER. STAFF MUST BE AWARE OF THIS MEDICATION BEING ON CAMPUS BEFORE ADMINISTRATION CAN OCCUR*
Food allergy action plans can be downloaded under the Health Forms tab above. Students who need food accommodations or special dietary needs, can also find the "Vysehrad special dietary need" form under the food allergy file as well. Please be aware that accommodations will only be provided to those students who meet the 504 disability criteria. All other requests will be discussed on a case by case basis.